During the 6th year at the music academy of Bruges we had to write a "piece" about a subject dealing with music. For me the choice was easy: I was going to write about one of my most passionate passtimes: dancing Argentine tango. The "piece" had to be between 10 and 20 pages.
I did my first tango steps a good 6 years ago, at a time when I was looking for a new hobby and for new friends, after being hit by the illness of that time, called divorce.My sister paved the way. Many years before I started learning tango, my sister was dancing it and she had the time of her life. However I hardly took notice of it. I was too busy with the garden, the kids and my travel movies. Tango didn't appeal to me, not at all! When she told me she occasionally went to a milonga in Ghent, I couldn't understand and thought she was out of her mind. Why do such a thing? Why drive 50 km just for the sake of dancing?
But now that I opened myself to tango, I think of it quite differently. Tango brings people together, it makes you feel in heaven, it is very social, a good remedy for headaches and misery, it is stylish, lovely to look at, aesthetic, and most songs are sung in Spanish, one of my favourite languages. We ourselves went to milongas in Berlin, Basel, Zurich, Maastricht, Paris, Lille, Tarbes, Toulouse, Verona. But tango is also danced in Japan, China, South Africa… I made a lot of friends in the world of tango, and what else I like about it, it's entertaining, it's a kind of sport, it keeps you away from the tele, it's exciting and relaxing, ... It's more than just moving, it's a dance that requires a certain amount of effort and concentration, especially for men, who have to lead the women with their torso. This leads me to believe that it brings about a great deal of respect and admiration by people who do not know how to dance it.
Enticing is the great variety in dance locations. Personally I prefer dancing in the open air on a historical square or courtyard, such as on the courtyard of the Arentshof or the Fish Market in Bruges, or on the cosy courtyard of the Vieille Bourse in Lille (see picture), and along the waterfront, such as along the Scheldt in Antwerp, the Seine in Paris, the river Spree in Berlin, the sea in Ostend. It is romantic, sensual, passionate and classy.
The music sometimes sounds monotonous, by the melancholy it evokes, but is often very rhythmic and varied. Not only is it danced on music on 2/4, but also on 1/3 (tango waltz) and on 4/4 (milonga). Not to mention the neo-tango, which has a very contemporary feel about it and therefore very much appeals to young people and also allows for a whole different range of figures
Also not to be missed is the role play. The man invites the woman. She accepts or - don't worry men, rarely - turns down the invitation. Both roles are unique, though I'm glad to be a man and being the one who takes the initiative and thereby determins how long I linger on the dance floor. Once I experienced the roles being turned. At a milonga in Courtrai, during international Women's Day, the organizers decided that not the men, but the ladies had to invite. It felt revolutionary, not easy to adapt to!
As far as dancing is concerned, I'm not only fascinated by tango, but also by salsa. Since I like to practise sports, such as tennis, jogging, cycling, playing badminton and squash, I sometimes prefer to dance salsa, because it requires more physical effort. Another thing I like about salsa, is the music, which most of the time is very pleasant and cheerful.
But salsa is not roses all the way. When dancing salsa the drops of sweat runs slightly faster than in tango. And when dancing salsa, it is common to dance during only one song with someone you've invited, while in tango the etiquette of politeness, demands that you dance at least three songs with your partner. What's more, people who dance tango are much more calm, they dress more distinctly and it appears to me that there is a bigger flow of other people in the world of tango. In my opinion both genres complement each other very well. Some people who organise dancing venues begin to realise this and sometimes present combinations of dancing genres, such as in Croix (France), where once a year a dancing venue is organised with one third tango music, one third rock 'n roll and one third salsa. In Belgium too, deejays sometimes play a salsa song during a milonga. In Antwerp there is even a milonga, called Gotan Fever, where during a milonga once in a while other music is played, such as funk, disco, pop, rock and soul. However, during a salsa party not once did I hear a tango song. Nevertheless, nearly every time I dance at least one tango during a salsa party. How? Well, because latin deejays try to diversify their music in alternating salsa songs with merengue and also bachata, which has a rhythm that is perfect for dancing tango.
But let me come back to my thesis at the music academy. At first I thought of making a comparison between the classical and neo tango music and dance. However, while gathering information, I learned that there is so much more to tell. And since I love to dance tango and spend so much time on the dancefloor, I thought it was really worthwhile to read more about the history of tango, the dancers, composers, lyrics, why we often have to dance to old creaking records, etc.
What I did not know, and really should have known - because that's how I am – is that I have a hard time when it comes to restricting myself. When I do something I like, my enthusiasm has no limits. That is why I left no stone unturned to read just about any topic on Argentin tango I could get hold of, resulting in a number of pages somewhat out of proportion, exceeding by far the maximum number of 20 pages required. But for this I'm not the only one to blame. The confusion that exists about many issues, forced me into further research and further reading. On whether tango is a dance that originated in brothels, opinions differ so much, that one could fill an entire book just trying to clear this subject.
Along the way I discovered that tango is more international than I thought. In France, Germany, Italy, Switzerland, Austria, the USA and even Finland, tango is very popular. Because I graduated as translator French / English and as a master in German / Spanish, I didn't have to restrain myself to one language.
Nevertheless, I want to point out that this study is by no means complete. The intention is to continue reading books, articles and websites on Argentine tango. In the meantime, may I invite everyone to give comments for enhancements or to suggest improvements by writing something in my guestbook?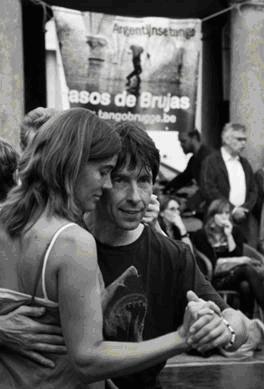 21 May 2010 Jean-Pierre Van Loocke <![if !vml]> <![endif]>
<![if !supportEmptyParas]> <![endif]>